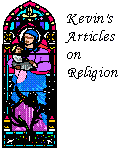 Bumper Sticker Religion
Sayings from real t-shirts and bumper stickers (most of them are taken from the articles posted at EssayWritingStore.com):


The one who dies with the most toys, still dies.
I'm not driving He is, talk to Him.
Focus on your own damn family.
St. Jude Pray for me. I drive Cerillos1 Road.
Follow your Bliss
My Boss is a Jewish Carpenter
God will take care of you (one way or another)
Jesus Is Bored
Heaven Doesn't Want Me
Hell is Afraid I'll Take Over
Jesus is coming, and boy is he pissed
Jesus is coming--look busy!
On a Wisconsin auto:
Honk if you love cheeses.
---
Non-religious entries...
HONK if anything falls off
My other car is a broom
Fundamentalism stops a thinking child
Your Kid's an Honor Student, but you are a moron
My Kid beat up your Honor Student
I'm not deaf, I'm just ignoring you
Don't blame me, I voted for me
Visualize Whirled Peas
Visualize your turn signals
UFO's are real (the Air Force doesn't exist)
I Love Cats. They taste like chicken
I gave up sex, drinking and gambling.
It was the worst 10 minutes of my life.
I want to die in my sleep like my grandpa,
not yelling and screaming like the passengers in his car.
If we stop voting, will they go away?
I can't go to work today.
The voices said, stay home and clean the guns
Keep honking – I'm re-loading
Obviate obfuscation
Mondale-Ferraro
---
Rogues Gallery
Clinton Sucks, but he didn't inhale
Piss off a Liberal, buy a gun
You can have my gun, lead first
Rush is Reich
I accelerate for Attorneys
If you have a favorite of your own, e-mail me.
---
1) I've driven Cerillos road (in Santa Fe, New Mexico) and didn't find it unusually bad.

Kevin ()

[ Home | t.r.m Articles]